You should expect good character in leadership at your church, or for that matter you should expect to find good character in all of your chosen leaders. In our Respect article we talked about how respect should be 'commanded' instead of 'demanded'. Commanded respect is earned from others by their observance of a leader's consistent positive character traits.
What the Bible states
The Bible is not silent in regard to describing how a leader should behave. Here is an example of expected character traits from 1 Timothy 1-13 New King James Version Bible:
1-7 "This is a faithful saying: If a man desires the position of a bishop, he desires a good work. A bishop then must be blameless, the husband of one wife, temperate, sober-minded, of good behavior, hospitable, able to teach; not given to wine, not violent, not greedy for money, but gentle, not quarrelsome, not covetous; one who rules his own house well, having his children in submission with all reverence (for if a man does not know how to rule his own house, how will he take care of the church of God?); not a novice, lest being puffed up with pride he fall into the same condemnation as the devil. Moreover he must have a good testimony among those who are outside, lest he fall into reproach and the snare of the devil."
8-13 "Likewise deacons must be reverent, not double-tongued, not given to much wine, not greedy for money, holding the mystery of the faith with a pure conscience. But let these also first be tested; then let them serve as deacons, being found blameless. Likewise their wives must be reverent, not slanderers, temperate, faithful in all things. Let deacons be the husbands of one wife, ruling their children and their own houses well. For those who have served well as deacons obtain for themselves a good standing and great boldness in the faith which is in Christ Jesus."
Modern Character in Leadership Studies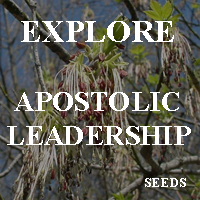 Leaping forward to our 'modern' times, here is an excerpt from a study concerning character traits and leadership done by the Santa Clara University and the Tom Peters Group:
Traits are distinguishing qualities or characteristics of a person, while character is the sum total of these traits. There are hundreds of personality traits, far too many to be discussed here. Instead, we will focus on a few that are crucial for a leader. The more of these you display as a leader, the more your people will believe and trust in you:
Honesty – Display sincerity, integrity, and candor in all your actions. Deceptive behavior will not inspire trust in your people.
Competent – Your actions should be based on reason and moral principles. Do not make decisions based on childlike emotional desires or feelings.
Forward-looking Set goals and have a vision of the future. The vision must be owned throughout the organization. Effective leaders envision what they want and how to get it. They habitually pick priorities stemming from their basic values.
Inspiring – Display confidence in all that you do. By showing endurance in mental, physical, and spiritual stamina, you will inspire your people to reach for new heights. Take charge when necessary.
Intelligent – Read, study, and seek challenging assignments.
Fair-minded – Show fair treatment to all people. Prejudice is the enemy of justice. Display empathy by being sensitive to the feelings, values, interests, and well being of others.
Broad-minded – Seek out diversity.
Courageous – Have the perseverance to accomplish a goal, regardless of the seemingly insurmountable obstacles. Display a confident calmness when under stress.
Straightforward – Use sound judgment to make a good decision at the right time.
Imaginative – Make timely and appropriate changes in thinking, plans, and methods. Show creativity by thinking of new and better goals, ideas, and solutions to problems.
This modern study virtually rewrites the verses in 1 Philippians that we quoted above doesn't it? God gave us free will, but he also gave us wisdom through the scriptures to aid in guiding our free will. God shows us what to expect in a good leader to help us find one. God also shows individuals how he expects them to live their lives if they wish to become good leaders. The Bible teaches that you should expect character in leadership as we have shared. Would you want your church leadership to be anything different than the Good Leaders that are described by the Holy Scriptures?
We intend to publish other articles exploring leadership character traits, so please bookmark our site and check back frequently.
Your Apostolic Leadership Team